posted on 14 September 2015
Written by Yichao Wang, GEI Associate
According to the National Bureau of Statistics of China, the consumer price index (CPI) increased 2% in August from a year earlier, at the fastest pace in a year, while the producer price index (PPI) fell 5.9%, extending declines to 42 months. The gap between CPI and PPI is the widest since 1994.
On the one hand, CPI inflation is now higher than the one-year benchmark deposit rate, crimping real interest rates for savers. The surge in food prices is the main factor that contributed to the pickup in CPI, affecting nearly 1.23% increase in the overall price level. As the official report shows, the price of pork increased 19.6% and the prices of vegetables were up by 15.9% from a year ago.
However, the increase in CPI is not a big challenge for the Chinese government. Problems such as pork supply crunch can be solved in the short-term. Despite the soaring food prices, non-food prices only went up by 1.1% year-on-year. Moreover, the increase in CPI was still significantly below the government's annual target of 3%.
On the other hand, the falling PPI is rather worrying. The latest figure suggests that China is facing a new risk of falling into deflation. As PPI represents the prices of products for manufacturers, PPI deflation would erode the profits of many companies, raise the burden of their debts, and push up real borrowing costs for the industrial sector, which in turn affects consumption and the entire economy. Last month, manufacturers laid off workers at a faster rate as their order books shrank. In addition, the declining PPI would also influence CPI eventually.
Weak domestic demand due to slowing down economic growth, lower overseas demand and overcapacity across many sectors are the main reasons that caused PPI to fall. Furthermore, as the official report shows, among major industries, PPI extraction of petroleum and natural gas decreased 37.9%; that of mining of ferrous metal ores decreased 20.4%. The de-inventory process in energy sector caused significant structural shifts in demand. Producer prices for consumer goods rather went down only by 0.3%.
The declining PPI fuelled expectations of further rate cutting to revive cooling demand and head off the risk of deflation. Meanwhile, monetary policy has its limitation in fixing the problem of structural overcapacity. As many analysts have suggested, other proactive fiscal policies such as additional tax breaks will also be needed.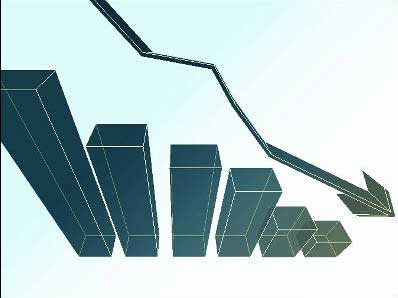 Editor's note: GEI News has been tracking this growing deflation risk on a regular basis for more than three years. See, for example:
>>>>> Scroll down to view and make comments <<<<<<
Click here for Historical News Post Listing
Make a Comment
Econintersect

wants your comments, data and opinion on the articles posted. As the internet is a "war zone" of trolls, hackers and spammers -

Econintersect

must balance its defences against ease of commenting. We have joined with Livefyre to manage our comment streams.

To comment, using Livefyre just click the "Sign In" button at the top-left corner of the comment box below. You can create a commenting account using your favorite social network such as Twitter, Facebook, Google+, LinkedIn or Open ID - or open a Livefyre account using your email address.



You can also comment using Facebook directly using he comment block below.
---