posted on 01 August 2015
Written by Daniel Lara-Agudelo, GEI Associate
Uber is an international transportation company that offers consumers the ability to request a driver, through their mobile application, that will pick them up at their immediate location and take them to wherever they need to go. It was founded in 2009 by entrepreneurs Travis Kalanick and Garrett Camp who began their operation in San Francisco, where the company is currently headquartered.
Since then, Uber has expanded to offer its service in more than 300 cities worldwide, including Paris, New York, and London. At present, the tech/transportation firm is estimated to be worth nearly $50 billion, and various sources predict that it will generate more than $10 billion in revenue by the end of the year. The social networking giant, Facebook, did not even make that much until 10 years after it first opened for business. Achieving so much in so little time would seem to indicate that Uber has had it relatively easy over the past five years. However current events demonstrate that this is definitely not the case.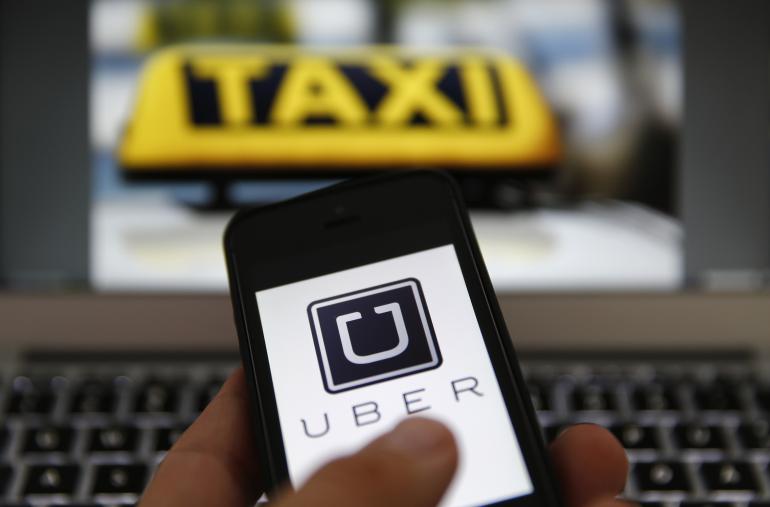 Despite widespread popularity, the app-based taxi service has been challenged time and time again by various governments and organizations. So far, Uber has experienced some form of ban in 18 cities, 2 states, and 6 countries. In addition, protests have been organized in most major cities. In Paris, taxi drivers blocked important roads and violently assaulted their competitors to show their disapproval of the company. A crowd in Mexico attacked various Uber drivers with clubs and rocks, effectively destroying their vehicles. It seems that wherever the firm goes next it is met with strong opposition from those who see their actions as being unjust, and in many cases, illegal. The reason for this essentially has to do with the way that Uber operates.
Uber drivers, unlike their taxi counterparts, are not held to the same standards and, as a result, they have an advantage in the transportation market. To better understand this dynamic it is beneficial to imagine two drivers working in London, one being a cabby and the other employed by Uber. Becoming a London cabbie typically takes 2 to 3 years; candidates have to take multiple examinations proving their ability to navigate the city streets and they must also submit extensive medical and character checks. On the other hand, all an Uber driver needs is a valid driver's license, car insurance, and access to a suitable vehicle. There is a mandatory background check that looks into a candidate's history, but according to current drivers it takes at most a couple of weeks to process. All of this shows that it is easier and cheaper to run an Uber service in a given city than it is to run a traditional taxi service. To make matters worse for traditional cabs, not only are there less regulations that apply to the former, their flexible work hours and better pay gives them a competitive advantage in the labor market. One survey suggests that Uber drivers in the United States make $6 more an hour than taxi drivers, although wage differences depend largely on the city. All of this information explains why this recent innovation in transportation has angered so many people all over the world.
Now, looking at all of the available information, if Uber has an unfair advantage over its competition, what are legislators in cities to do? One possible solution would be to ban the service all together, like others have done. However, some say that such a move would send the wrong message to future entrepreneurs and businesses, a message that says that their cities do not care for free enterprise and innovation. Additionally, despite Ubers' many flaws, it is still a great product that may benefit cities by facilitating the transportation of tourists and citizens alike, thereby stimulating the economy. So, while banning the company might help alleviate a few problems, it also seems to take something valuable away. Another viable solution would be to either lift some of the regulations that apply to taxi drivers or to add regulations that would apply to Uber drivers. This, to a certain extent, would even out the playing field and foster competition between the two services. Unfortunately, even though such a plan seems fair it does not address the fact that, as mentioned previously, Uber has the edge in the labor market. Furthermore, lifting regulations may create safety concerns while adding them could limit economic progress. Therefore, if regulators do go down this path it is necessary that they make their decisions very carefully.
All in all, there is no telling where Uber will be in a couple of years. The company has angered so many, and yet it still manages to be immensely popular and, more importantly, quite profitable as well. Hopefully, whatever it is that legislators do, their decision will foster economic growth and inspire future entrepreneurs to innovate, just like Travis and Garrett did five years ago.
Click here for Historical News Post Listing
Make a Comment
Econintersect

wants your comments, data and opinion on the articles posted. You can also comment using Facebook directly using he comment block below.
---