posted on 03 July 2015
by Zillow
For more than 30 years, consistently falling mortgage interest rates have helped spur more home sales. But in about a year's time, that decades-long tailwind will likely shift to a housing headwind.
By all expectations, as the Federal Open Market Committee (FOMC) prepares its retreat from recent, extraordinarily accommodative polices, we are approaching the beginning of the end of the era of falling mortgage rates, and entering a period in which rates are likely to rise over the next several years.
Higher mortgage rates, particularly long-term changes in mortgage rates, make it harder for some households to move, in turn reducing housing turnover and sales. As they rise, mortgage rates will increasingly drag on home sales, a phenomenon known as "mortgage rate lock-in" that Zillow first explored last year.
To estimate the size of this drag, we use the five-year change in mortgage rates in a model of existing home sales. Based on an updated estimate of that model and new assumptions about the path of interest rates and household formation [1], we estimate that rising mortgage rates could subtract almost 350,000 units at a seasonally adjusted annual rate (SAAR) from the total annual number of existing home sales by 2018 (figure 1). The current annual pace of existing sales has averaged about 5.1 million units (SAAR) during the first five months of 2015, meaning rising interest rates alone could dent sales by almost 7 percent if sales volumes remain at that pace.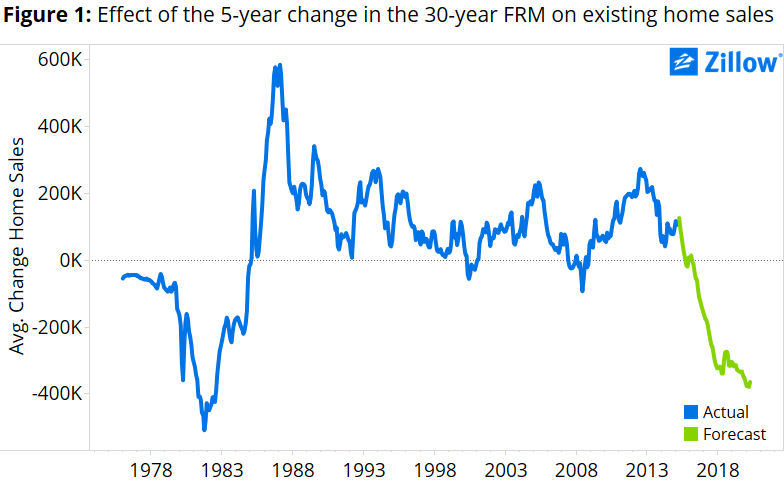 But even if/when they begin to climb within the next few months, rising interest rates won't have an immediate negative effect on home sales. According to our estimates, the mortgage interest rate boost will not become a drag until mid-2016.
Nor will rising mortgage rates impact the overall affordability of buying a home nationally, particularly for first-time homebuyers, at least not for several years to come. According to Zillow research, rates on a 30-year, fixed-rate mortgage will need to exceed roughly 7 percent before buying a home becomes less affordable nationwide than historic U.S. averages. According to our estimates, mortgage interest rates will not reach that level until 2018 or so.
But for homeowners currently locked in at a low rate, rising mortgage rates could represent a budgetary curveball should they decide to buy another home in coming years. Homeowners used to a certain monthly mortgage payment may balk at paying a higher amount per month in financing costs for a home roughly comparable to their current residence, to say nothing of a home that is more expensive.
For decades, homeowners haven't had to worry about that. By this time next year, they'll need to start.
[1] We assume the 30-year fixed mortgage rate will rise from 3.84 percent in May 2015 to 4.63 percent by December 2015; to 5.63 percent by December 2016; to 6.88 percent by December 2017; and to 7.75 percent by December 2018, where it is expected to remain through 2020. These forecasts are consistent with the FOMC's federal funds rate forecasts in the June 2015 Summary of Economic Projections and a constant spread between the federal funds rate and the 30-year fixed mortgage rate. We also assume the household formation rate over the next five years is 1 percent per year. This is a faster pace of household growth than has been observed for much of the post-recession period, but somewhat slower than the pace set in the 1990s and early-mid 2000s.
About the Author
Aaron Terrazas is a Senior Economist at Zillow. To learn more about Aaron, click here.
Click here for Historical News Post Listing
Make a Comment
Econintersect

wants your comments, data and opinion on the articles posted. You can also comment using Facebook directly using he comment block below.
---