posted on 14 June 2015
by Zillow
Through 2013, there were clear signals that developers and new home builders were increasingly focused squarely on the higher end of the market. But while builders in 2014 were still trying to put as much home as possible on their lots in order to maximize returns, signs emerged last year that the trend has slowed and stabilized.
Earlier this year we looked at the relationship between lot size and structure size and between lot values and sales values, for new single-family homes. Our initial analysis of the U.S. Census Bureau's Survey of Construction covered the period from 1999 through 2013. With the recent release of 2014 data, we updated our analysis.
Throughout the recovery, newly constructed homes have occupied an increasing share of the lot on which they're built - the result of more construction in denser, more urban communities. At the same time, the value of lots themselves have been falling relative to sales prices as builders focused on higher-end development with more upscale structures.
In 2014, these trends in new construction slowed, but certainly did not reverse. After flattening out to some extent in mid-2013, the trend in the relationship between structure area and lot area continued to march upward in 2014 (figure 1, green line). By the end of last year, the typical new home built occupied almost 30 percent of its lot, up from roughly 22 percent at the bottom of the housing bust.
But as the trend of larger homes on smaller lots continues, the decline in lot values relative to sale values - the difference between what a developer pays for a lot and what is paid to the developer for the finished home and land - stabilized in 2014, around 16 percent (figure 1, blue line).
This is yet another signal that developers are indeed starting to expand their focus away from the luxury segment, the target of most new construction in recent years.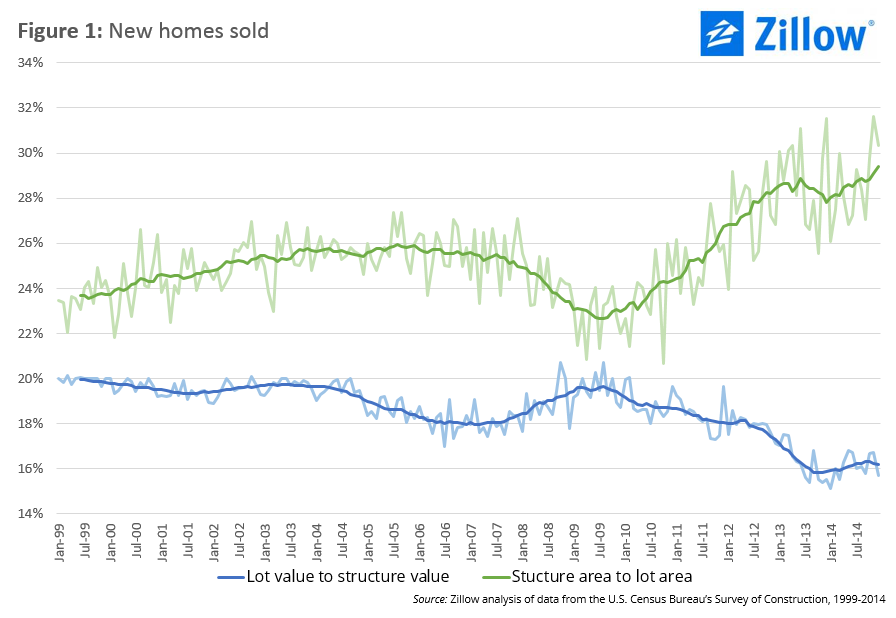 About the author
Aaron Terrazas is a Senior Economist at Zillow. To learn more about Aaron, click here.
Click here for Historical News Post Listing
Make a Comment
Econintersect

wants your comments, data and opinion on the articles posted. You can also comment using Facebook directly using he comment block below.
---