posted on 13 June 2015
by Zillow
Many cities nationwide are considering following in Seattle's footsteps and raising their minimum wage to $15 per hour. Supporters of the increase say it's necessary to help entry-level workers afford rapidly rising housing costs, particularly rents. And that's true - in some areas. Unfortunately, in most large markets, it may be too little, too late.
In January 2012, two renters making at least $15 per hour would have been able to pool their resources and afford the median apartment in 24 of the nation's largest 35 metros without spending more than 30 percent of their income on rent, according to a Zillow analysis [i]. But as rents have steadily risen throughout the depths of the housing recession and subsequent recovery, as of April, that $15 wage will only afford the median rent for two renters in less than half (16) of the largest U.S. metros (figure 1).
The most affordable metros in April for dual-earner households included Detroit ($11.21 hourly wage needed for two earners to afford median rent), Pittsburgh ($11.24), St. Louis ($11.37), Cleveland ($11.61) and Indianapolis ($11.99). The most expensive were San Jose ($32.87), San Francisco ($31.62), Los Angeles ($24.98), New York ($23.72) and San Diego ($23.30).
For more solitary renters, the picture is even more dire. A wage of $15 per hour would not affordably cover the median rent for a single renter in any of the nation's 35 largest metros. Single renters in Detroit, the least expensive metro analyzed, would still need to earn $22.42 per hour to afford the median rent in that market. And even if the proposed $15 minimum wage were to quadruple overnight, it still would not be enough for a single renter in San Jose - a tenant would need to make more than $65 per hour to afford the Silicon Valley area's median April rent of $3,287.
But while the picture is pretty bleak for those making the least in this country - particularly so because actual minimum wages in most areas are far less than $15 per hour - low-income renters do have some options. Finding more roommates with whom to share the rent burden is always an option, as is choosing to rent an apartment that costs less than their area's median. Or, renters could decide to bite the bullet and pay more than 30 percent of their income on rent, tightening their belt on other expenditures in order to make ends meet. Or they could work more hours than what we assume - 40 hours per week, 50 weeks per year.
Nationwide, a single renter would need to make $27.28 per hour to afford the U.S. median rent of $1,364 per month without exceeding the 30 percent per month threshold. Two renters would each need to make at least $13.64 per hour. As of the end of 2014, the typical renters nationwide should expect to payexactly 30 percent of their income on rent, right at the advisable threshold and well above the 25 percent share renters would have expected to pay in the pre-bubble period from 1985 to 1999.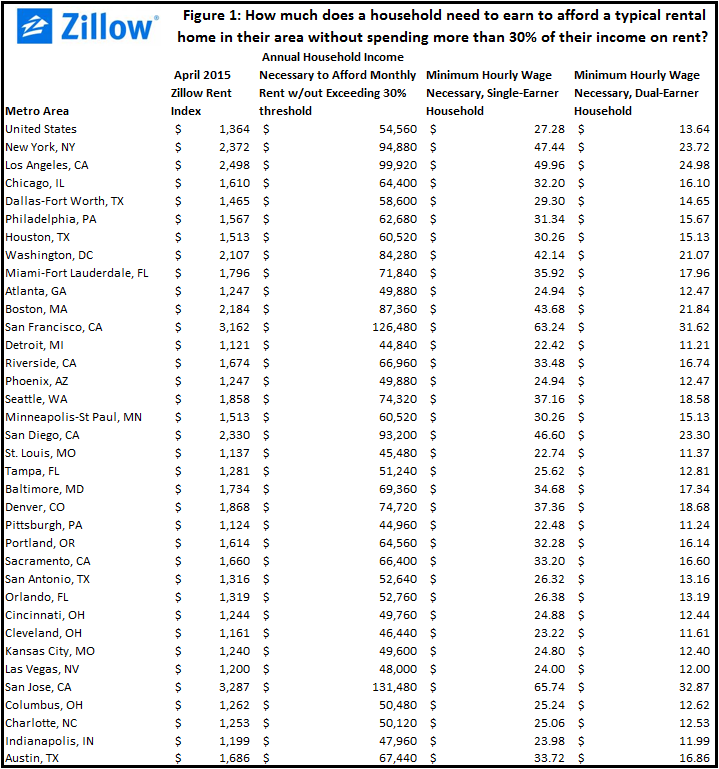 [i] Using Zillow Rent Index data for median rents, we calculated the income necessary to afford that rent for both single earners and dual earners without exceeding 30 percent of income spent on rent, the commonly accepted "affordable" threshold.
Click here for Historical News Post Listing
Make a Comment
Econintersect

wants your comments, data and opinion on the articles posted. You can also comment using Facebook directly using he comment block below.
---