posted on 07 June 2015
Written by Florica Mois, GEI Associate
America's youth has become mired in a dire debt. Part of this reality is caused by what seems a perennial rise of college tuition. A tertiary education is highly praised; but everything has a frailty. Four years of college, specifically, involves one or more opportunity costs with the most noteworthy ones deriving from monetary deprivations.
Figure 1: Annual expenditures per full-time-equivalent (FTE) student for postsecondary education by gross domestic product (GDP) per capita
It has never been more the case than for college students about how captivating dreams are. Why? Their anticipations (of a better job, status, social network etc.) for the future contribute hiding the time (four years or more) and the big amounts (see Figure 1) of money lost. Burdened by debits from their well-manicured colleges of circa half a hundred thousands of dollars per year, many students in today's society are indebted (see Figure 2.)
Figure 2: average debt per borrower in each year's graduating class
The American college education is among the least affordable in the world, which represents a conundrum for students whose college' costs require such a great effort to support. Although there is incomplete information about student debt, its significance is readily estimated. After mortgage loans, student loans (represented by the second, azure color from the top in Figure 3) is the second largest category composing the American debt. In view of the great cost, is there an alternative to college education?
Figure 3: Table with the data released in 2015 by the New York Fed about the debt balance and its composition
In America, not having a college education is inconceivable partly because refusing it would appear as a ludicrous idea. Philip D. Gardner, the director of the College Employment Research Institute (CERI) at Michigan State University, declared that the chances are for America's young people to be "in trouble" if they "don't pursue education or training beyond high-school." But, relevant in Gardner's statement is the employed conjunction "or": it suggests that having a college education is not the only option. Some jobs do not require a Bachelor degree. This is in part confirmed by CERI's 2014-2015 findings, which projected a 19% increase of hiring for college grads having an associate's degree and a 16% increase of hiring for college grads having a Bachelor's degree. Not all jobs require a four-year diploma; they instead focus, as Gardner added, "more on apprenticeships or certificate programs."
John Mackey (founder of Whole Foods), Ingvar Kamprad (founder of IKEA,) or Walt Disney are all known to us through their successful businesses, yet none of them had a traditional four-year college education. People, nevertheless, with at least a Bachelor's degree working in jobs have a lower unemployment rate than just high school graduates (2.7% vs. 5.8%). In addition, besides loosing four years of income by going to college, after graduation it is not necessarily a well paid job that students will get because the number of workers with Bachelor degrees and higher who were at or below the minimum wage was of 273,000 in 2014, which increased since 2013 (figure 4.)
Figure 4: Report released in April of 2015 by the U.S. Bureau of Labor Statistics (BLS)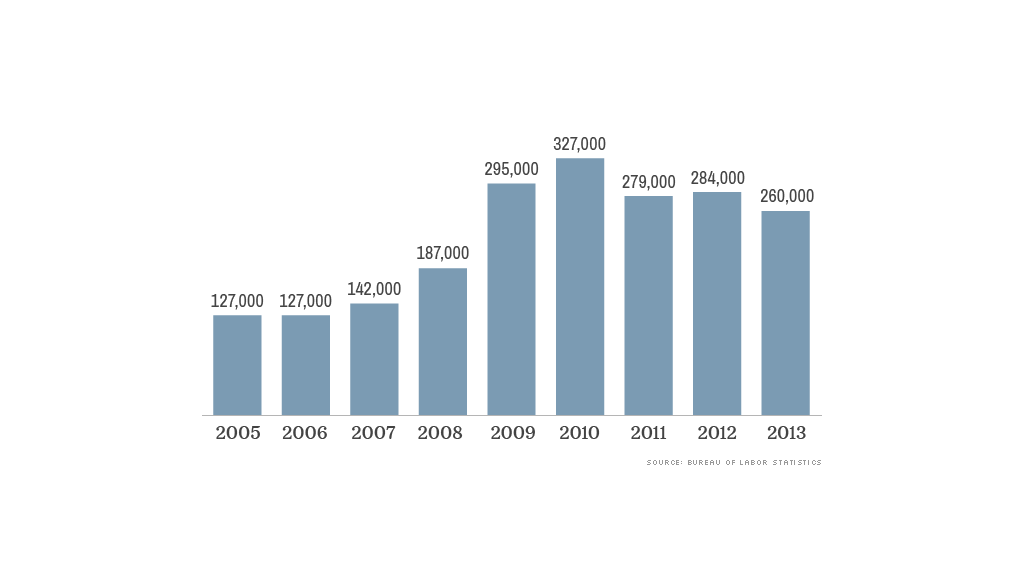 The money and time spent for college is in some societies considered as preposterous because going to college has the opportunity cost of delaying the transition to adulthood. Opportunity costs basically suggest that everything has a cost. Whenever one decides to do something, the energy or the resources spent on that action are, by definition, not utilizable on other plausible wanted actions. If a person has a test tomorrow she may spent some time studying; if, moreover, she would have done something else (working, reading, exercising, socializing etc.) was she not constrained to study for the upcoming test, that foregone action would have been her opportunity cost. Going to college must have at least one opportunity cost since every student must at some point spend time studying. For example, in their 20s scholars can no longer conceive of being financially independent or forming a family. Impeded by their student loans—a debt that menaces pouncing on them after graduating—young adults are starting households later than the past generations. It, subsequently, renders them less likely to buy goods such as cars or house furniture. Graduates, therefore, may be compelled to rewrite their pre-college wishes as they may have some constraints at realizing them post-college.
"Marriage occurs later than ever." According to a 2011 Pew Research, the proportion of the 18-to 29 years who were married was only 20% in 2010 compared with 59% in the 1960s. Leaving home, marrying, and having kids is unlikely to happen in college where the so called Millennial generation has the same style of life in their 20s as when they were teenagers: merely supported by their parents, without, for example, the fear of being unable to pay bills at the end of the month.
Figure 5
A high educational attainment has an awesome power: akin to the use of garlic to repel vampires in Romania, a Bachelor degree in America is claimed to prevent unemployment (Figure 5.) The question might be: Is a post-secondary education to be reduced to merely a business decision, feeling compelled to attend college willy-nilly for monetary reasons?
Click here for Historical News Post Listing
Make a Comment
Econintersect

wants your comments, data and opinion on the articles posted. You can also comment using Facebook directly using he comment block below.
---