Written by Rick Ackerman, Rick's Picks
Gold's ups and downs have grown increasingly tiresome, largely because the rallies are so disappointing and the setbacks so punitive. But look at the bright side: If bullion can hold its own at a time when institutional investors continue to shun it, just think how well it's going to perform when the portfolio managers finally get their heads out of their butts.
---
Written by Lance Roberts, Clarity Financial
Back in early 2013, I made a recommendation to sell gold entirely and move into stocks.
---
from Daily Reckoning
-- this post authored by Bryon King
Big news just broke in the gold sector.
The story originated from industry bellwether Goldcorp. It involves a relatively complex set of mergers and business associations, but the bottom line is that a new bar has been set for how the gold mining industry works.
---
Written by Dan Steinbock, Difference Group
Toward the New Gold-en Era
In the past half a decade, gold prices were fueled by negative rates. Now gold is driven by geopolitical risks, efforts at gold-backed trade and local prices.
---
by John Persinos, InvestingDaily.com
Investing Daily Article of the Week
Regardless of your political persuasion, one fact is clear: The unpredictable actions of America's impulsive president are a recipe for incessant market volatility. That spells gold mania in 2017 and perhaps well beyond.
---
Written by Lance Roberts, Clarity Financial
"War, huh, yeah

What is it good for

Absolutely nothing" - Edwin Starr
---
Written by Rick Ackerman, Rick's Picks
June Gold ended last week consolidating for a likely push to a minor rally target at 1303.00. An equally compelling pattern of somewhat larger degree targets 1305.70, so you should be prepared for stall at one number or the other.
---
Written by Pebblewriter, Pebblewriter.com
I'm not a gold bug. I've always thought the price was pretty heavily manipulated (long before it hit the headlines) and I guess I've avoided it on principle. Looking back at my forecasts over the past year or so, that was probably a mistake.
---
by Staff Reports Money Morning, Money Morning
Money Morning Article of the Week
Although prices have dipped 2.8% to $1,232 this month, investing in gold is still one of the best profit strategies this year. That's because we expect gold prices to rise 13.6% to $1,400 by the end of 2017.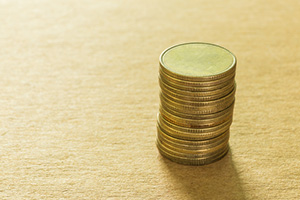 ---