from Liberty Street Economics
-- this post authored by Jonathan McCarthy
In a recent Liberty Street Economics post, I showed that one major category of consumer spending - spending on discretionary services such as recreation, transportation, and household utilities - behaved very differently in the 2007-09 recession and subsequent recovery than in previous business cycles: specifically, it fell more steeply and has recovered much more slowly.
---
from the Cleveland Fed
-- this post authored by Murat Tasci and Caitlin Treanor
Though labor market statistics are often reported and discussed at the national level, conditions can vary quite a bit across individual states. We explore differences in these conditions before and after the Great Recession using a ratio of the number of unemployed workers to job vacancies. We show that the intensity of the adverse effects of the recession and the strength of the recovery varied geographically at all points in the process. We also demonstrate that wage growth is delayed until the ratio of unemployed workers to job vacancies returns to prerecession levels.
---
from the St Louis Fed
-- this post authored by William Emmons, Lead Economist, Center for Household Financial Stability
"Prime-age workers" are those between 25 and 54.[ 1] Numbering almost 100 million in December 2017, this age group is both the largest and most productive set of workers.[ 2] Yet, all of the net increase in employment since 2000 - about 17 million jobs - has been among workers aged 55 and older, as seen in the figure below. Some economists fear that our aging workforce may be holding back economic growth.[ 3]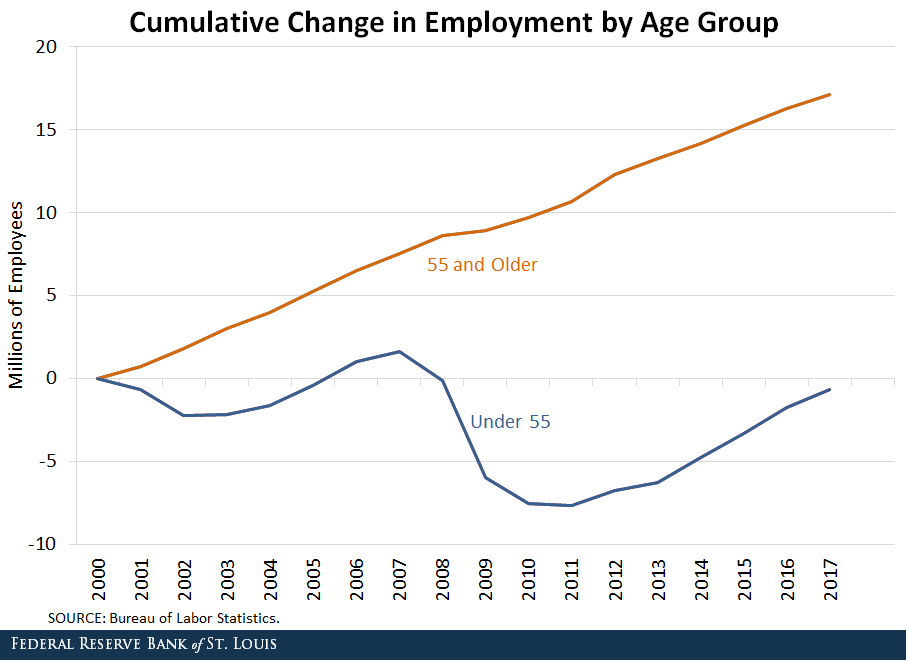 ---
A large truck is defined as a truck with a gross vehicle weight rating (GVWR) greater than 10,000 pounds.
---
Written by Econintersect
Early Bird Headlines 23 January 2018
Econintersect: Here are some of the headlines we found to help you start your day. For more headlines see our afternoon feature for GEI members, What We Read Today, published Monday, Wednesday and Friday, which has many more headlines and a number of article discussions to keep you abreast of what we have found interesting.
---
Written by Econintersect
Econintersect: Google Analytics has given GEI page read counts for each of the 266 most read articles on Global Economic Intersection for the week 14 through 20 January, inclusive. The top ten are listed after the Read more >>jump.
---
Written by Investing.com Staff, Investing.com
Each week the staff of Investing.com publishes a global economic calendar. A summary table of the highlights is presented after the Read more >> jump.
---
from Statista.com
-- this post authored by Dyfed Loesche
Getting any app promoted and downloaded by users is an increasingly difficult game.
---
from The Conversation
-- this post authored by Shushma Malik, University of Roehampton and Caillan Davenport, Macquarie University
Early Roman history is full of stories about the terrible fates that befell citizens who broke the law. When a certain Tarpeia let the enemy Sabines into Rome, she was crushed and thrown headlong from a precipice above the Roman forum.
---
from Statista.com
-- this post authored by Dyfed Loesche
Apple has generated a record breaking $300 million in revenue through its app store - on New Year's Day alone.
---
If you've been online recently, you've probably seen this. This is one of two clips released by the Department of Defense. Both videos show a thermal image of an unidentified flying object. The videos have been widely shared and scrutinized. A lot of people think this is the first real evidence that extraterrestrials exist, and that they've visited us here on Earth. There's just one thing. Most people in the scientific community don't think these videos prove anything.

---
from the New York Fed
This web feature provides regularly updated information on labor market outcomes of recent college graduates.
---
from the Congressional Budget Office
-- this post authored by Daria Pelech
Physicians' services account for a substantial portion of health care spending in the United States. Using 2014 claims data from three major insurers, we analyzed the prices paid for 20 common services and compared those prices with the estimated amounts that Medicare's fee-for-service (FFS) program would pay for the same services.
---
from the International Monetary Fund
What's the best solution to a lack of infrastructure? Find a solution that doesn't require infrastructure. That's what Zipline has done in Rwanda - a start-up that deploys drones to make emergency medical deliveries to remote hospitals and clinics.
---
from the Bureau of Labor Statistics
The union membership rate - the percent of wage and salary workers who were members of unions - was unchanged at 10.7 percent in 2017, the U.S. Bureau of Labor Statistics reported today. The number of wage and salary workers belonging to unions, at 14.8 million in 2017, edged up by 262,000 from 2016. In 1983, the first year for which comparable union data are available, the union membership rate was 20.1 percent and there were 17.7 million union workers.
---
Programmers are like linguists, studying foreign languages and reaching varying degrees of fluency. Let's traverse the coding landscape to learn more about some of the most popular programming languages used today.
---
Written by Sig Silber
The main focus of this report is the NOAA February, Three-Month and 15-Month Forecasts, the JAMSTEC Three-Season Forecast, and a comparison of the JAMSTEC with the NOAA forecast. There are some areas of agreement for the first season (Spring) and then more divergence for Summer. NOAA only addresses temperature for next Winter while JAMSTEC forecasts a dry West and a wet East. The differences in the forecasts are due to relatively small differences in the estimates of the timing of the demise of the La Nina Conditions and the forecasts for what follows for this coming Summer and Winter. We address the possibility that NOAA is behind the curve re the ENSO Transition.
---
Written by Econintersect
Econintersect: Here is a day-by-day rundown of the global economic calendar events for the coming week and the important earnings announcements each day, as well. The presentation is by Merlin Rothfeld from Online Trading Academy and Power Trading Radio.
Video presentation follows the Read more >> jump
Merlin Rothfeld
---
from The Conversation
-- this post authored by Andrew McGee, Queensland University of Technology
The High Court has handed down its decision on Jayant Patel's appeal against his conviction on three counts of manslaughter and one count of grievous bodily harm.
---
from Statista.com
-- this post authored by Dyfed Loesche
Wyoming is still America's biggest coal producing state, according to figures by the U.S. Energy Information Administration.
---
from The Conversation
-- this post authored by Scott R. Baker, Northwestern University
The federal government shut down for the first time in a little more than four years after Republicans and Democrats failed to agree on a last-minute deal to keep funds flowing for another few weeks.
---
from Statista.com
-- this post authored by Niall McCarthy
The share of U.S. citizens holding a passport has risen steadily over the past three decades.
---
Do California beach goers know what the Capital of America is? If so, do they know what the DC stands for in Washington DC? Mark Dice asks random beach goers to find out in this episode of Man on the Street Monday.

---
from STRATFOR
-- this post is authored by Scott Stewart
In some ways "the global jihadist movement" is a misleading phrase. Rather than the monolithic threat it describes, jihadism more closely resembles a worldwide insurgency with two competing standard-bearers: al Qaeda and the Islamic State. To make matters more complicated, grassroots extremists have been known to take inspiration from each group's ideology - and, in some cases, both.
---
from the St Louis Fed
-- this post authored by Paulina Restrepo-Echavarria and Brian Reinbold
In a previous blog post, we discussed how there are different ways to measure the labor share, or the fraction of labor income over gross domestic product. In that post, we showed these different measures for several Latin American countries. In this post, we will look at the labor share for the Asian Tigers.
---
from Challenger Gray and Christmas
Retail employment dropped 88 percent from November's total of 462,700 to 53,900 in December, the lowest December total on record, according to an analysis of non-seasonally adjusted Bureau of Labor Statistics data.
---
from the International Monetary Fund
-- this post authored by Brian McNeill
Over the past few years, artificial intelligence has rapidly matured as a viable field of technology. Machines that learn from experience, adjust to new inputs, and perform tasks once uniquely the domain of humans, have entered our daily lives in ways seen and unseen.
---
from Elliott Wave International

How money managers who beat a benchmark can still "ruin your retirement"

Would you like to invest with a money manager who has a track record of "beating the market"? "Who wouldn't" you might reply. But, hold onto your horses -- or, in this case, onto your portfolio.
---
If for some reason, you still think that the commodity markets are predictable, today's chart provides a nice piece of humble pie.
---
Written by Steven Hansen
President Trump wants immigration from non-sh*thole countries. To me, the entire system of immigration is misguided.
---
from Statista.com
-- this post authored by Niall McCarthy
At one point or another, something on social media can just drive you over the edge.
---
from Statista.com
-- this post authored by Dyfed Loesche
Idaho is America's fastest-growing state, according to data released by the U.S. Census Bureau.
---
from The Conversation
-- this post authored by Morten Wendelbo and Christine Crudo Blackburn, Texas A&M University
Flu season in the U.S. typically peaks in February, but this year's outbreak is already one of the worst on record. As of Jan. 6, 20 children have died from the flu, and overall mortality caused by the flu is already double that of last year's.
---
from Statista.com
-- this post authored by Dyfed Loesche
There's a pretty hefty gender gap in U.S. federal prisons, and prisons and jails in general.
---
Econintersect: Every day our editors collect the most interesting things they find from around the internet and present a summary "reading list" which will include very brief summaries (and sometimes longer ones) of why each item has gotten our attention. Suggestions from readers for "reading list" items are gratefully reviewed, although sometimes space limits the number included.
This feature is published Monday, Wednesday, and Friday in the late afternoon New York time. For early morning review of headlines see "The Early Bird" published Monday through Friday in the early am at GEI News (membership not required for access to "The Early Bird".).
BECOME A GEI MEMBER - IT's FREE!
Most of this column ("What We Read Today") is available only to GEI members.
To become a GEI Member simply subscribe to our FREE daily newsletter.
---
by Jill Mislinski, Advisor Perspectives/dshort.com
The University of Michigan Preliminary Consumer Sentiment for January came in at 94.4, down 1.5 from the December Final reading of 95.9. Investing.com had forecast 97.0.
---
Top 10 of the craziest people risking their lives doing extreme dangerous stunts for an adrenaline rush and some excitement. Some people thrive on dangerous situations while others are perfectly content watching them do it from the comfort of their own home.

---
ECRI's WLI Growth Index which forecasts economic growth six months forward remains in expansion. ECRI also released their coincident indicator index this week.
---
Week 2 of 2018 shows same week total rail traffic (from same week one year ago) expanded according to the Association of American Railroads (AAR) traffic data. The rolling averages for the economically intuitive sectors barely remains in expansion, and the decline in the last three weeks negatively affected all the averages.
---