by Lakshman Achuthan, Co-Founder and Chief Operations Officer of ECRI
Import price growth has nosedived - in both advanced and emerging economies - to the lowest readings since 2009. This is the flip side of the picture we had showcased earlier, noting that, "Following a post-recession pop, we got collapsing world trade growth, and that's even with [export] prices falling over the past three to four years."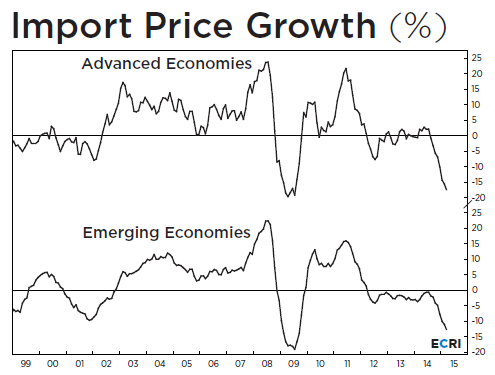 In less than four years since their 2011 peaks, import prices have dropped 18% in emerging economies, and over 20% in advanced economies. It is a testament to the intensity of the current deflationary pressures that these price declines - though not as steep - are almost as large as they had been during the Global Financial Crisis (GFC).
As in the GFC, this deflation is not just about an oil price plunge. Rather, the prices of a broad range of commodities, as well as manufactured goods, have fallen substantially. It is telling that this has occurred in the context of some 11 trillion dollars worth of global QE since the GFC.