Virginia-based Orbital Sciences holds a $1.9 billion NASA contract to make eight unmanned supply runs to the International Space Station with its Antares rocket and Cygnus cargo ferry.

The two-stage Antares launch vehicle burns liquid oxygen (LOX) and kerosene (RP-1). The rocket's height overall is 131 feet (40 meters). Its liftoff weight is 530,000 pounds (240,000 kilograms). The Antares rocket was originally called Taurus 2.

The Cygnus pressurized cargo module can carry up to 5,952 pounds (2,700 kg) of payload to the International Space Station.
Follow up:
At the rear of Cygnus is a service module containing avionics, power, communications and command and control hardware. On the outside of the service module are twin fixed-wing gallium arsenide solar arrays  capable of putting out 3.5 kilowatts of electricity.

Future Cygnus spacecraft will be enhanced with a larger pressurized cargo module and lightweight solar panels.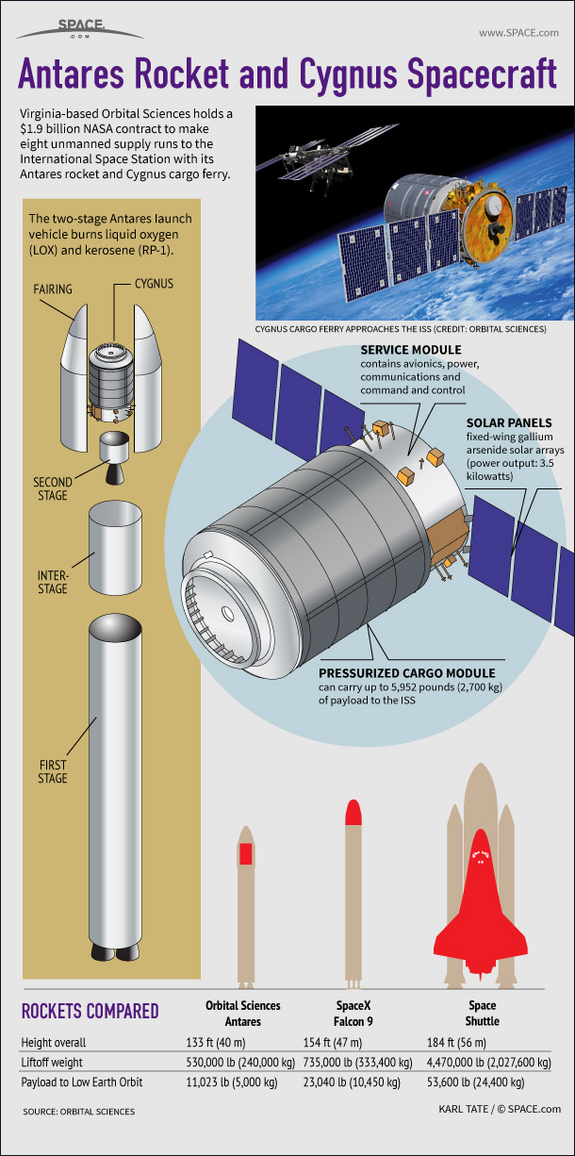 Source SPACE.com: All about our solar system, outer space and exploration